Aquabundle
Prevent them stealing sips of your Aquammama with this bundle of joy the whole fam can enjoy—Aquamamma and Aquabud Hydration Cans. Keep them fuelled with healthy electrolyte drinks for kids (happy kids, happy mum, right?) and stay on your A game with your own vitamin-packed cans of goodness.
Electrolytes for fast hydration

Free from artificial nasties found in sugary drinks

Vitamin C, magnesium and folic acid

Healthy hydration for busy families 

​​Free from dairy, gluten, nuts & eggs

100% vegan
Ingredients

What's IN?

New Zealand Spring Water
Calcium Citrate
Ascorbic Acid (Vitamin C)
Magnesium Phosphate
Potassium Citrate
Sodium Citrate
Zinc Gluconate
Natural Flavours
Natural Colours
Cane sugar (Coconut & Berry)
Apple juice concentrate (Apple)
Steviol Glycosides
Citric Acid

What's OUT?

Low sugar (2.5g/100ml)
Low sodium (4.8mg/100ml)
Low calorie (45.3kj/100ml)
No artificial sweeteners
No artificial colours
No artificial flavours
Gluten free
Dairy free
Nut free
Egg free

Nutritional Information

Aquabud
Av. Qty
Per Serve
Av. Qty
Per 100mL
Energy
110kJ
45.3kJ
Protein
0g
0g
Fat – Total
0g
0g
Saturated
0g
0g
Carbohydrates
6.57g
2.63g
Sugars
6.25g
2.5g
Dietary Fibre
0g
0g
Sodium
12mg
4.81mg
Potassium
6.3mg
2.52mg
Vitamin C
88mg
35mg
Magnesium
12.7mg
5.1mg
Zinc
0.79mg
0.32mg
Calcium
37.1mg
14.8mg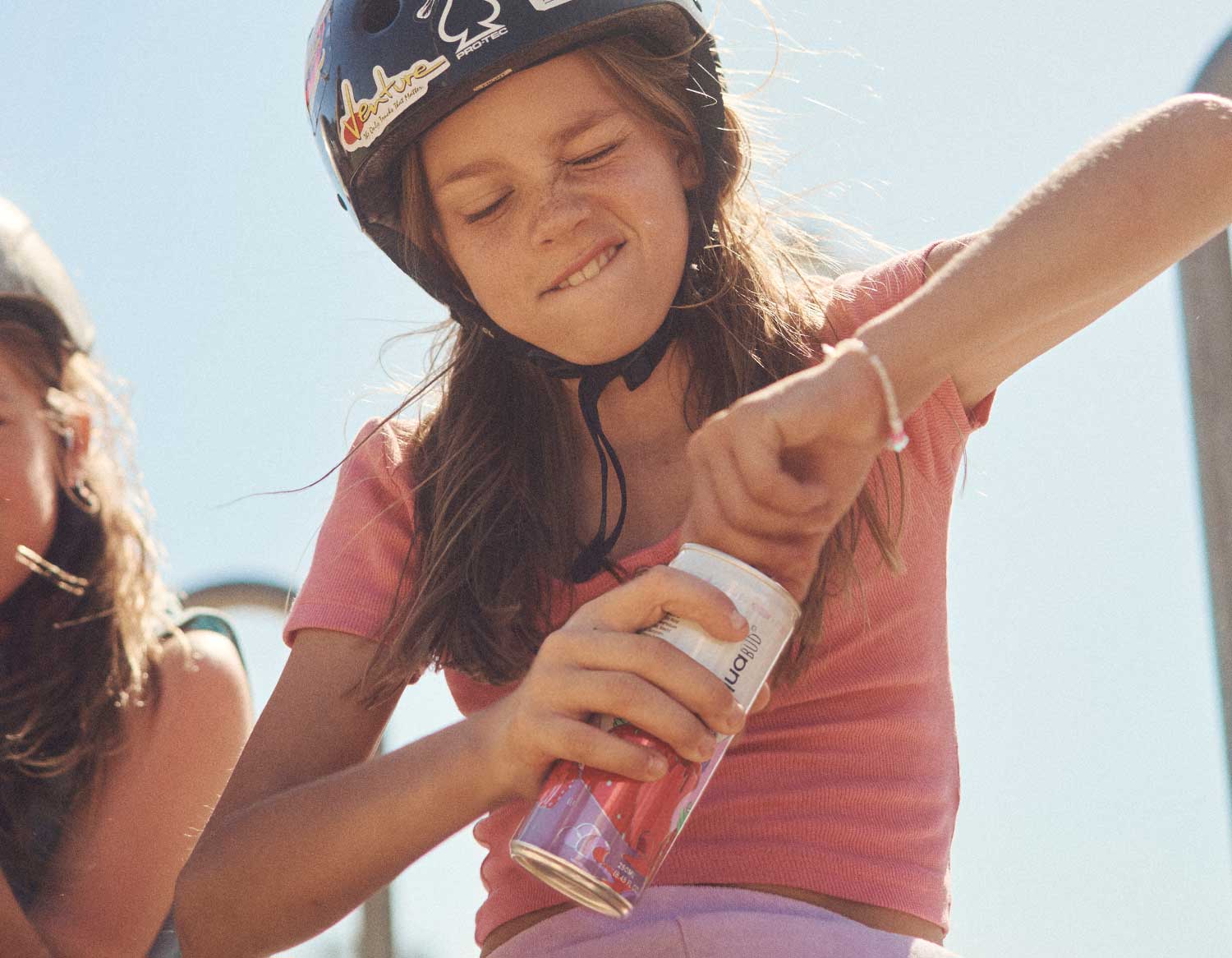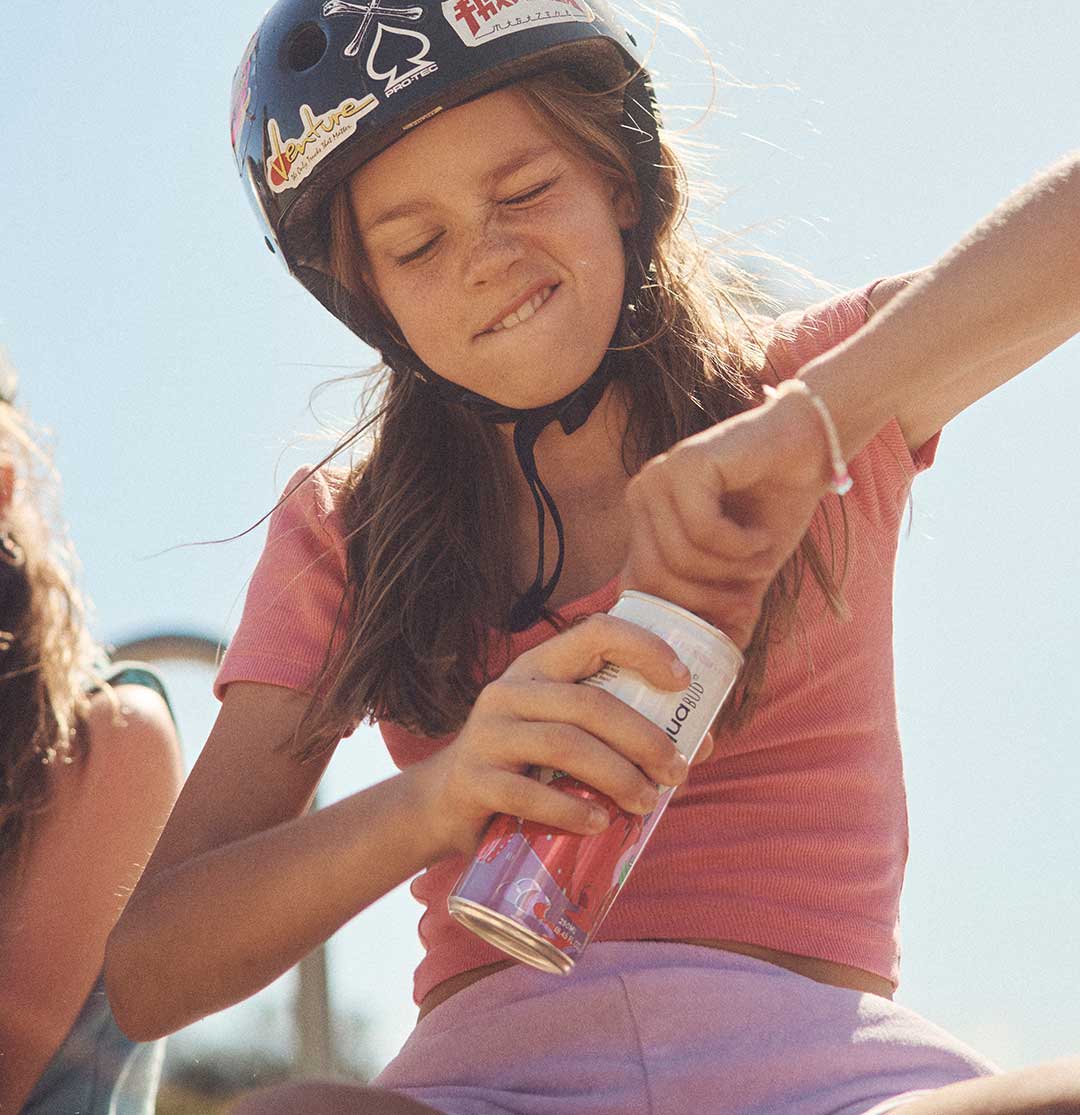 Constantly being pestered for a sugary juice or soft drink? Always trying to force your kid to drink water? Aquabud to the rescue!
The perfect size for little (grubby) hands—great as a lunchbox bud, an after school hit of hydration, a Saturday sport companion, or just a healthy, delicious treat.great as a lunchbox bud, an after school rehydration bud, a Saturday sport bud, or just a healthy treat.
Did you know dehydration is linked to fatigue? (So is not sleeping, but unfortunately we can't help with that. Talk to the baby.) Aquamamma helps shake that cute zombie feeling.
FAQs
What's Aquabud made of?

Aquabud is a water-based electrolyte drink. The main ingredient in every can is natural spring water from our mates in New Zealand. We don't mind putting aside our trans-Tasman rivalry to admit they have the best water in the world. We add electrolytes in the form of potassium, plus a small amount of vitamin C, magnesium, calcium and zinc. Then we jazz things up with natural flavours and colours—but nothing artificial! Check out our full list of ingredients and a description of each one here.

Can anyone drink Aquabud?

Aquabud is for people aged two years and up. You know that age where your kid starts to get really annoying at the supermarket? That's kinda the perfect age for an Aquabud.

Does Aquabud contain any allergens?

Aquabud is FREE from gluten, dairy, nuts and egg. We're also a vegan safe product.

How many can a mum-to-be drink per day?

We recommend the following as a guide, but we always recommend you consult your health professional to determine suitability for your individual needs and health records. Pre-pregnancy: 1-3 Aquamamma per day. During pregnancy: 1-3 Aquamamma per day. (9 months) Labour: 1 Aquamamma per hour. After pregnancy / during breastfeeding:1-3 Aquamamma per day (6-12 months).