Aquabud Hydration Cans
Kids. Never. Stop. EVER. They're busy, and forever-thirsty. Keep them hydrated with electrolyte drinks for kids. Each 250ml can is filled with electrolyte-infused water, plus added vitamins and minerals suitable for kids ages 2+.
Healthy alternative to juice and sugary drinks

Electrolytes vitamin C, calcium, magnesium, zinc

Low sugar See comparison

Low sodium, low calories & BPA-free

 

No artificial colours, flavours or sweeteners

​​Free from dairy, gluten, nuts & eggs

100% vegan
Ingredients

What's IN?

New Zealand Spring Water
Calcium Citrate
Ascorbic Acid (Vitamin C)
Magnesium Phosphate
Potassium Citrate
Sodium Citrate
Zinc Gluconate
Natural Flavours
Natural Colours
Cane sugar (Coconut & Berry)
Apple juice concentrate (Apple)
Steviol Glycosides
Citric Acid

What's OUT?

Low sugar (2.5g/100ml)
Low sodium (4.8mg/100ml)
Low calorie (45.3kj/100ml)
No artificial sweeteners
No artificial colours
No artificial flavours
Gluten free
Dairy free
Nut free
Egg free

Nutritional Information

Aquabud
Av. Qty
Per Serve
Av. Qty
Per 100mL
Energy
110kJ
45.3kJ
Protein
0g
0g
Fat – Total
0g
0g
Saturated
0g
0g
Carbohydrates
6.57g
2.63g
Sugars
6.25g
2.5g
Dietary Fibre
0g
0g
Sodium
12mg
4.81mg
Potassium
6.3mg
2.52mg
Vitamin C
88mg
35mg
Magnesium
12.7mg
5.1mg
Zinc
0.79mg
0.32mg
Calcium
37.1mg
14.8mg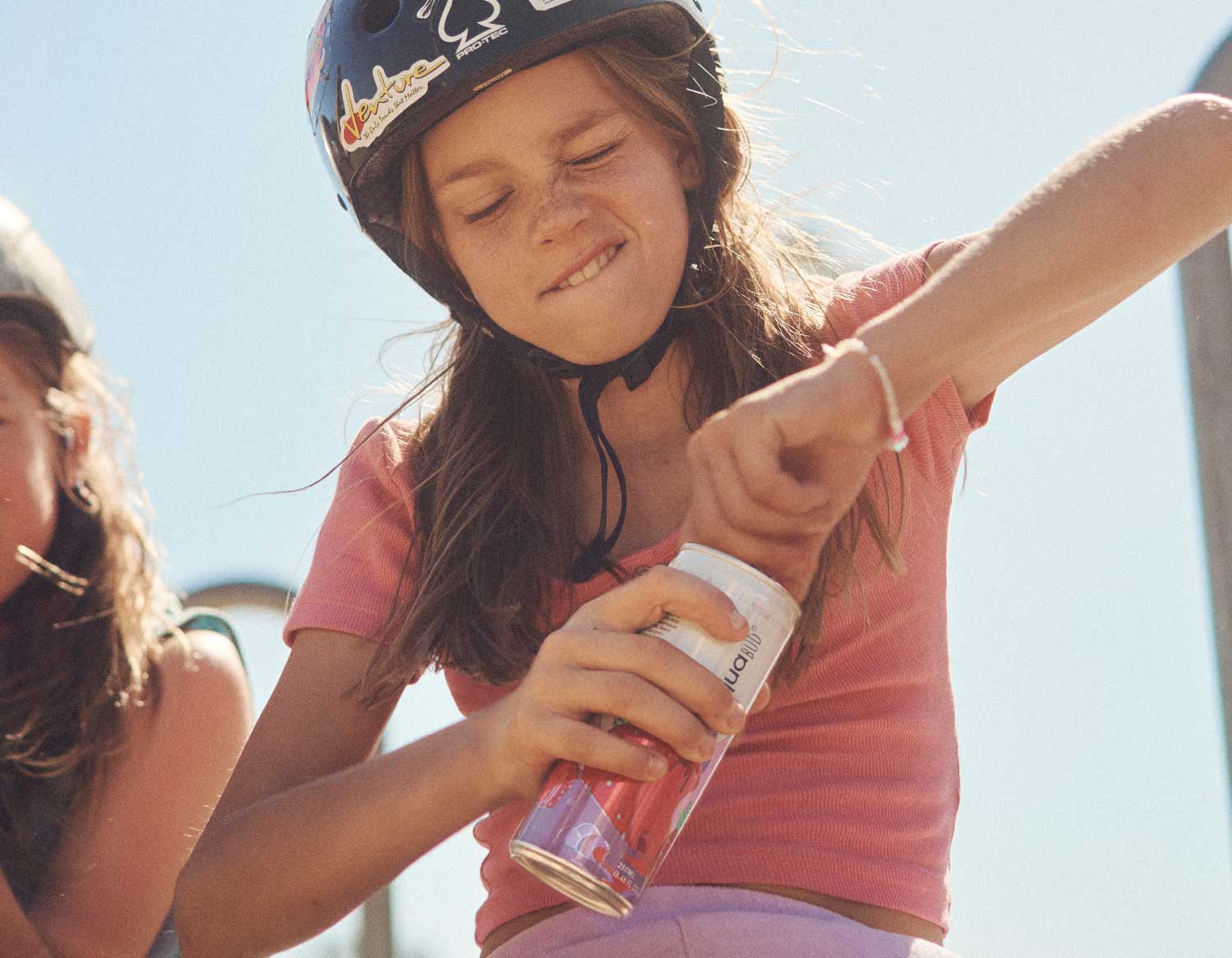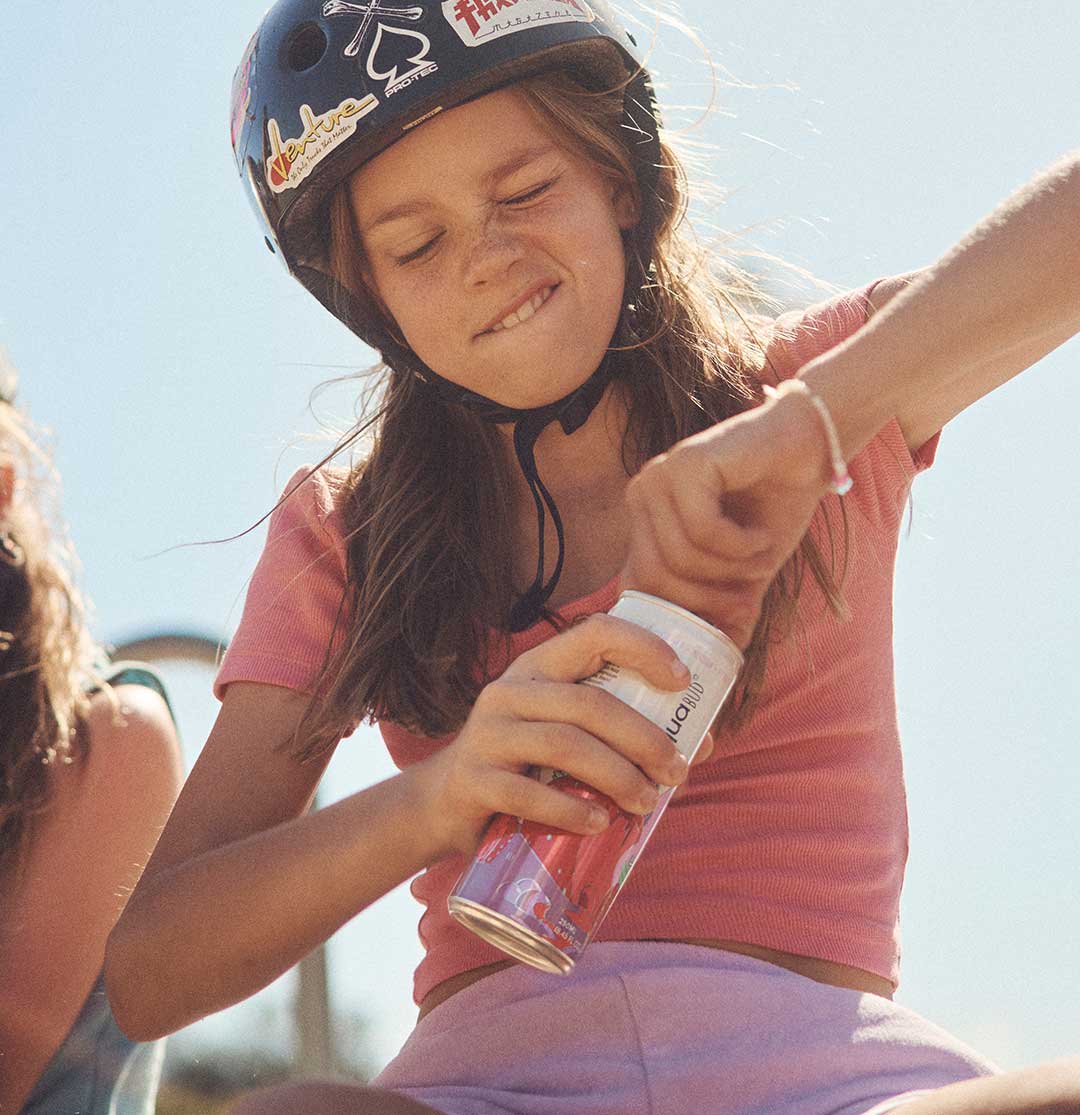 Constantly being pestered for a sugary juice or soft drink? Always trying to force your kid to drink water? We hear you!
Electrolytes for fast hydration, plus vitamin C, calcium, magnesium and zinc!
Free from artificial nasties found in many fruit drinks, soft drinks, cordials, sports drinks and flavoured milks.
The perfect size for those little (grubby) hands—great as a lunchbox bud, an after school hit of hydration, a Saturday sport companion, or just a healthy, delicious treat.
FAQs
What's Aquabud made of?

Aquabud is a water-based electrolyte drink. The main ingredient in every can is natural spring water from our mates in New Zealand. We don't mind putting aside our trans-Tasman rivalry to admit they have the best water in the world. We add electrolytes in the form of potassium, plus a small amount of Vitamin C, Magnesium, Calcium and Zinc. Then we jazz things up with natural flavours and colours - but nothing artificial! Check out our full list of ingredients and a description of each one here.

Is this a fizzy drink?

Nope! While we are big fans of bubbles, we don't add them to our drinks. Aquabud is a still (non-carbonated) electrolyte-infused water, flavoured naturally.

Can my child drink this if they take other vitamins?

Yep! Aquabud contains a small amount of vitamins per serve (take a look at the nutritional information above for exact quantities) and is not designed to replace any vitamin supplements your child already takes. Rather it is designed to support your child's overall growth and development. If you have questions, we'd recommend talking to your chosen health practitioner.

Can anyone drink Aquabud?

Aquabud is for people aged two years and up. You know that age where your kid starts to get really annoying at the supermarket? That's kinda the perfect age for an Aquabud.

How much sugar is in this drink?

100mls of Aquabud contains 2.5g of sugar. We're kinda like the Goldilocks of sugar - more than water, but less than many other fruit juices, soft drinks, sports drinks and flavoured milks. We're juuuuuuuuust right!

Does Aquabud contain any allergens?

Aquabud is FREE from gluten, dairy, nuts and egg. We're also a vegan safe product.

Does Aquabud come in a subscription?

It sure does! And if you subscribe to healthy hydration you save 5%. Delivery is every 30 or 60 days and you can change your order or cancel anytime. You can also combine with a subscription from our mates over at Aquamamma too!