Hydration Sachet Subscription
Say hi to your new fave daily routine – hydration sachets! Waaaaaay less work than other routines (looking at you bathtime), these will replenish your energy, not suck it out of you (still looking at you bathtime). Formulated to help meet your daily hydration and electrolyte needs, they're also low sugar, low sodium & low calorie with no artificial stuff. We highly recommend keeping a stash in your handbag / glovebox / pram / bra… you know, all the usual places.
Ingredients

We put in

Minerals: Sodium Citrate, Potassium Citrate, Magnesium Phosphate
Vitamins: Ascorbic Acid (Vitamin C), Folic Acid
Natural Flavours
Natural Colours: Black Carrot, Carotene
Natural sweeteners: Erythritol, Steviol, Glucosides
Sucrose
Food Acid: Citric Acid

We leave out

Artificial sweeteners, colours & flavours

Our sachets are proudly

Low sugar (2.5g/100ml)
Low sodium (15mg/100ml)
Low calorie (47kj/100ml)
Dairy free
Gluten free
Vegan
Non-GMO

Nutritional Information

Aquamamma
Per 19.5g
Serving
Av. Qty
Per 100mL*

* When prepared as directed.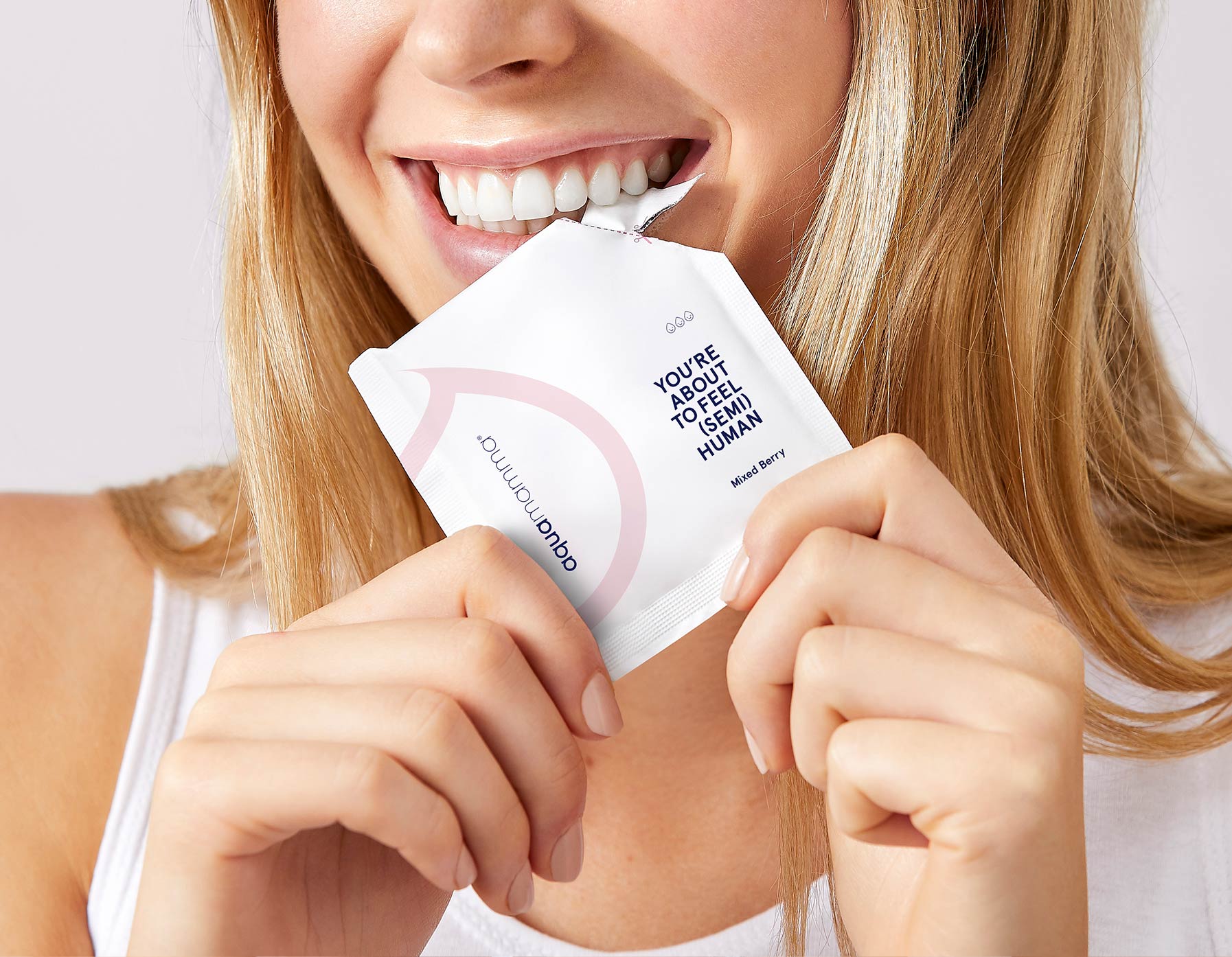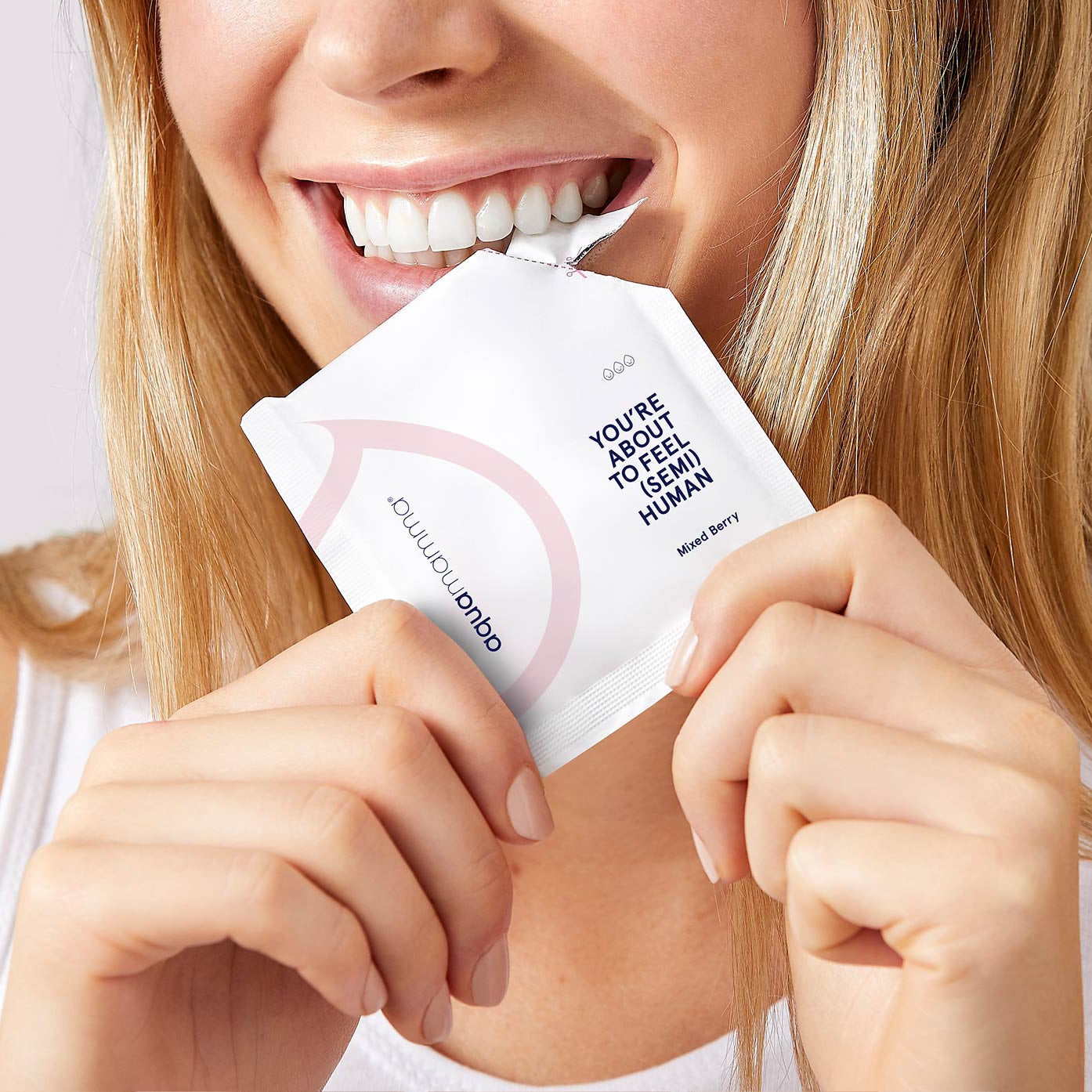 Helps with morning sickness, nausea and pregnancy fatigue.
Stashable sachets for your car, handbag or nappy bag, so they're always in reaching distance.
1% of profits donated to Wateraid Australia.
Side effect: makes parenting advice from your in-laws slightly easier to handle.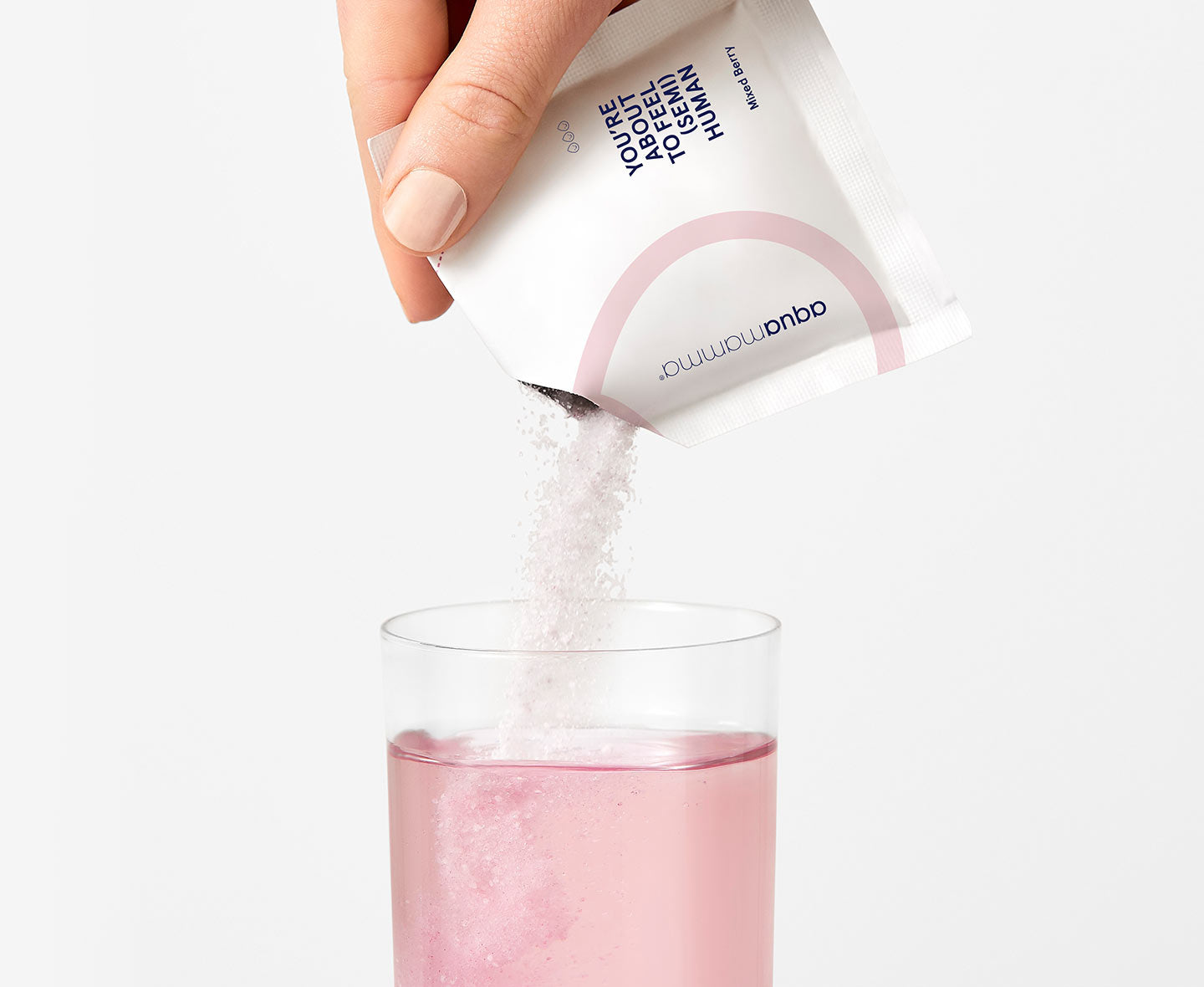 Directions for use
Empty one sachet into a bottle filled with 500ml of water.
Shake vigorously.
Sip (gulp) delicately (thirstily).
Feel a million times better than you did a minute ago.
FAQs
How many can I drink per day?

We recommend the following as a guide, but we always recommend you consult your health professional to determine suitability for your individual needs and health records. Pre-pregnancy: 1-3 Aquamamma per day. During pregnancy: 1-3 Aquamamma per day. (9 months) Labour: 1 Aquamamma per hour. After pregnancy / during breastfeeding:1-3 Aquamamma per day (6-12 months).

Can I drink these while taking prenatal vitamins?

Aquamamma contains a small amount of folic acid (37.5 micrograms per 250ml drink and 20 microgram per sachet) which is designed to help meet your daily requirements but not to replace your daily supplements. Consuming 1-3 Aquamammas per day in conjunction with your prenatal vitamin adheres to the recommended dietary intake for prenatal women. We cannot advise on your individual needs so we always recommend you consult your healthcare professional to determine your folic acid and supplementation needs.

Are these a good morning sickness remedy?

100%. All that throwing up can be very dehydrating after all! We get loads of feedback (check out our reviews!) about how Aquamamma was the only liquid that women could stomach when experiencing morning sickness, particularly in the first trimester. It's so important to hydrate after losing fluids through vomiting, but you may not feel like gulping down a big glass of water, so a lightly flavoured electrolyte drink such as Aquamamma can help provide some morning sickness relief.

Are your drinks carbonated?

Nope! We're not carbonated. We're a naturally flavoured, electrolyte water, with added vitamins. Being so deliciously flat makes us easier to gulp. (But legend has it, some people add their sachets to sparkling water, which we think is GENIUS.)

Can I drink these during labour?

Absolutely. Some people say being in labour is like running a marathon and we say, it's more like running ten. Back-to-back. Aquamamma is designed to take care of your electrolyte needs during labour, and is also low in sugar and sodium making it a healthier option than sports drinks or oral rehydration solutions.

Why is hydration so important?

Hydration is always important but for women who are trying to get pregnant, who are pregnant, or who have just given birth, it's vital. During this time, her body's working overtime to create and keep a tiny human alive. That takes A LOT of energy. So her body requires more fluid than usual. If she doesn't keep her fluids up she can become dehydrated, which could have an adverse impact on her health and even the health of her baby.

Read more on how to stay hydrated during pregnancy.

How much fluid should I be drinking each day?

Pregnant women should aim to drink 2.3 litres (around 10-12 glasses) of fluid each day and for breastfeeding women it's 2.6 litres (around 12-15 glasses). If you're vomiting, exercising or living in heat this could be even more.

Read more on How to increase milk supply when breastfeeding.

Does this come in a subscription?

Yes! And the best part—subscribing means you save 10%. Delivery is every 30 days and you can change your order any time. There's no commitment, meaning you can cancel whenever you feel like it.